The refurbishment works planned by SymbioCity Kenya in Meru County have just begun and the market is springing back to life. New businesses are being opened and existing ones expanded. A few traders revealed their aspirations to SymbioCity Kenya Communications.
Ontulili traders expect their businesses to become more vibrant due to better order, longer trading hours, increased traffic to the marketplace, reduced capital costs, improved road infrastructure and better security.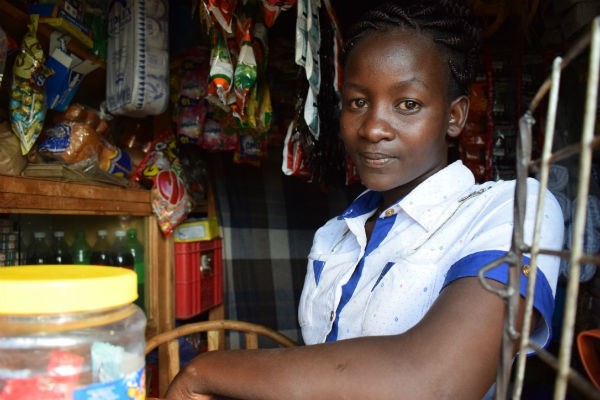 FAITH KARITHI, 20 years old, is a mother of two children. She has been selling kerosene, and various household products in Ontulili Market for three months. She opened the shop after hearing of the market revival plans.
Business has been good, but can do better. My customers are the few residents of the market area. When the market is reopened, I will have more customers, and will get a better, cheaper shop. I pay Kshs. 2500 per month. I also hope burglary will reduce because of lighting and the upcoming bus park.
KIRUKI MURUNGI, 59 years old, has traded in Katheri Market for nearly 15 years. He sells hair accessories, body creams, cooking gas, and operates money transfer services.
I am happy that the floodlight has been installed outside my shop. I will maintain the light to ensure that it serves us well. Most of us are small-scale traders and a little improvement like external lighting will boost our businesses greatly. It will enhance security. I've been closing shop by 7PM, but now I'll work till 9PM. I'll add to my business, a cybercafé and photocopy services. When Ontulili Market restarts, I may open another business there.
SALOME MAKANDI, 59 years old, has traded in Ontulili Market for one week. She is a tailor and sells fresh vegetables and fruits from her farm.
This market has been quiet for too long, then recently I heard about the SymbioCity project and didn't want to miss the opportunity. I got this space for Kshs.500 per month. My business is doing well yet the market hasn't even been opened. Usually by evening I don't have any more produce to sell. I hope for better times ahead.
PAUL KINOTI, 57, is the market area chairman, and a member of the cooperative society that donated the market land. While serving as a Councillor (political leader of a ward), Paul helped construct the existing market stalls. He is in the steering committee of the SymbioCity Kenya project.
The community know a lot about the project and have been asking when the market will reopen. Some of them were sceptical when we started the project, but are changing heart. The recently erected floodlight is a sign. Finally there is hope. The agricultural industry in this area will be boosted. My own hardware business, a stone's throw away, will grow. I also expect more tenants in my building.