By David Kimani, Communication Officer, the County Government of Nakuru.
A version of this article was first published by the County Government of Nakuru.
A donkey cart water vendor in Jewathu Settlement. Residents travel up to 10 km to the nearest water point.
Over 3000 residents of Jewathu, a low income settlement in Njoro Town, Nakuru County who year-in-year out suffer from waterborne diseases and recurrent flooding are hopeful of a reprieve as plans for a project that will mitigate this situation are in top gear.
Njoro is one of the areas where SymbioCity Kenya, an urban development initiative by the Council of Governors and the Swedish Association of Local Authorities and Regions, is being piloted.
Baseline survey on clean water access in Jewathu
According to the baseline survey of this live-changing program targeting peri-urban poor in one of Nakuru's upcoming town, prevalence of disea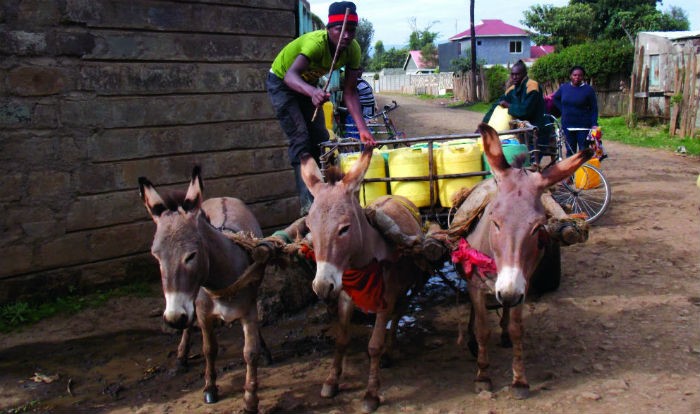 ses propagated by contaminated water in Jewathu informal settlement is about 70%.
People in the area travel for about 10 km to the nearest water point, are affected by rampant flooding due to poor drainage which in turn damages other infrastructure such as roads which people depend on for their well-being.
A Quick Win to help resolve water issues
SymbioCity, an all-inclusive and people-centered model of urban planning, was launched in Njoro in December 2017. With the sourcing of services for the first phase underway, there are high prospects of the problems identified in the baseline survey being alleviated.
The first phase of the project that will be soon on the roll, dubbed a 'Quick Win' is expected to lay the foundation upon which residents of Jewathu will be empowered to solve their day-to-day challenges such as inaccessibility to clean and safe water in an integrated and sustainable approach, says Naomi Moranga, Njoro sub-county physical planner and the county's pilot coordinator.
"Challenges of access to clean water and persistent flooding in Jewathu slum requires proactive involvement of the people in the mitigation process. People who directly benefit from the project or are in one way or the other are affected by the project must be deliberately and meaningfully involved in the project cycle so that they adopt and own it fully," says Naomi.
Adding, "this is what SymbioCity Kenya has afforded us. Having won beneficiaries and other stakeholders and with our proposal already developed, we are looking forward to long-term solutions that will safeguard Jewathu residents' access to clean water as well as curbing of flooding in the area."
Components of the 'Quick Win' include hydrological survey, designing of a 1.2 km drainage system which will be linked to water pans in Njoro Boys High and another next to Central Primary schools as well as rain water harvesting in Njoro Township Integrated Primary School.
Borehole drilling, community managed water kiosks
In order to ensure that Jewathu has access to clean and safe water, a reliable source of clean water will be established by drilling a borehole.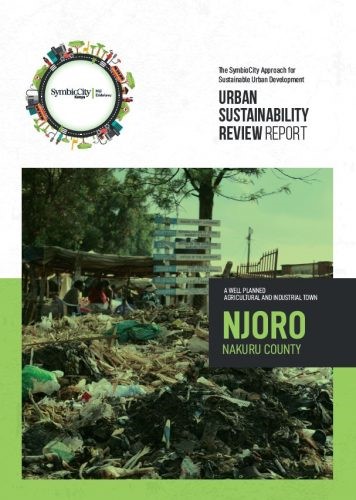 An Urban Sustainability Review has helped identify Njoro town's challenges, assets, and priorities. You can read it here.
The County Government of Nakuru through its Department of Water will conduct hydrological surveys in already four earmarked sites (Biston-Cheptoroi Secondary School, Golf, Njoro Township Primary School and Home Craft) to establish the most viable site to sink a borehole.
Afterwards, water tests will be conducted with the aid of a public laboratory to determine quality of water, which if satisfactory drilling of a borehole will start on the most viable identified site.
Once the drilling is complete, Nakuru Rural Water and Sanitation Company (NARUWASCO) will take over the borehole, installing power, overhead storage tanks, and water supply network to the two already existing accessible water points whose management is to be taken over by the community.
NARUWASCO's Managing Director Reuben Korir avers that the main objective of enabling the community effectively take over the management of the two water points is to ensure that Water Resource Users Association (WRUA) as per the Water Act, 2016 is adequately implemented and inculcated amongst the resident of Jewathu.
'The aim making resident adopt WRUA is to ascertain that everybody in the community has access to sufficient and good quality water at all times. Additionally, to securing a sense of community ownership in the project for sustainability', says Korir.
Improved storm water infrastructure
To ensure that storm water is effectively managed in Jewathu through the 1.2Km drainage, it will be channeled to water pans in Njoro Boys High School and next to Central Primary School. The former will be constructed and the latter only needs to be rehabilitated.
Improved sanitation for health
It is also expected that implementation of this project will improve sanitation for Jewathu residents, with lowering the spread rate of water borne diseases being the main indicator.
To actualize this, education and awareness campaigns on issues such as management of households' waste water targeting 120 participants drawn from men, women and youth groups among other sections of the community will be conducted through various stakeholders such as the Nakuru County Government Department of Public Health.