Ahero, Kisumu Trains Waste Champions
24 selected champions have commenced a five-day training on environmental management at Ahero Multipurpose training institute in Ahero town, Kisumu County. As a part of the County's SymbioCity Quick Win project, these change agents will spearhead community sensitisation on how to handle waste.
The focus of the training is to equip the champions with the necessary skills to enable them to be at the forefront and spearhead community sensitization on matters of solid and liquid waste management within Ahero town.
"We want Ahero to be a very, very clean place, managing both its solid and liquid waste," said business woman and champion Mme. Abwao.
"This has been a very important training for us, because environment is a key thing and waste management is like a disaster even in Ahero market," said Mr. Anyona, also among the champions. "We've learned more about waste management and what is expected of us."
Assistant Coordinator Mr. Onunga and Prof. Kamiruka, with champions Mme. Abwao and Mr. Anyona.
"It must be those who live in the wards, who take the lead in managing their environment," said Professor Jack kamiruka from Lake Basin College. "Environmental champions, with passion and knowledge, spearhead the creation of a conducive habitat for humanity and other creatures free from pollution."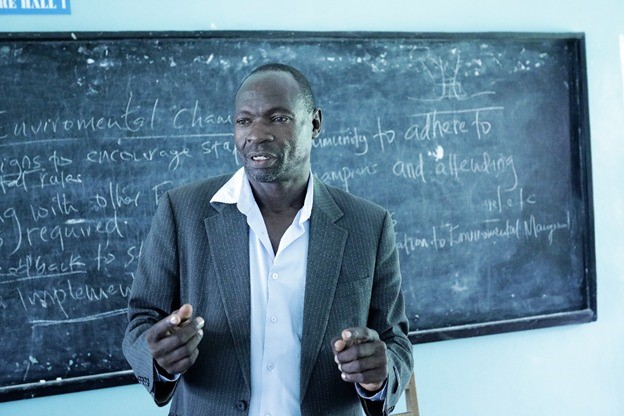 Professor Kamiruka
The training includes sessions on: natural resources and their benefits to man; the effects of environmental pollution; environmental rules; activities on environmental management; identification of new opportunities on environmental management, and more.
The session was officially inducted on Monday this week by the Ahero ward administrator, Madam Daizy Okal flanked by stakeholders' chairman, Mr. Charles Ogada, Kobura ward administrator, Mr. Paul, Professor Jack kamiruka from Lake Basin College and the Assistant Project Coordinator, Mr. Sospeter Onunga. The activity is under Kisumu County's SCK Quick Win Project and it is being facilitated by the Lake Basin College, a hired consultancy firm.