Ahero, Kisumu: "Nothing Should Be Called Waste"
A version of this article has been published on the Council of Governors' website.
A few weeks after 25 environmental champions in Ahero got trained on how to better collect and manage solid waste, many are already composting, selling waste, and mobilising their community towards better waste practices. New efforts in the town aim to reduce the volumes of waste to the landfill.
Trader Phoebe Ochieng', 37, loathes waste but did not know what to do with it. "I would never have imagined that there was income in waste," she states. Now Phoebe collects waste and separates it to compost what can make manure, and sells what can be reused, like metal, plastic and glass bottles.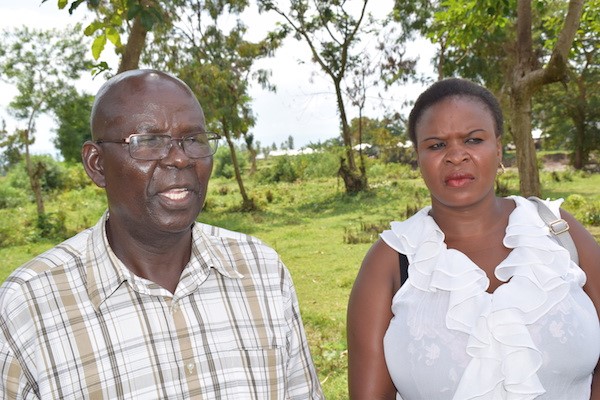 Champions George Oluoch and phoebe Ochieng'
The chairman of the newly trained champions, 52-year-old George Oluoch, previously burnt waste, but has since learnt better ways of disposal. "Since I started separating waste, I've realised that there is a lot that I can sell. Indeed nothing should be called waste," he states. The group coined the slogan, "my environment, my responsibility", to ensure that all residents of Ahero effectively dispose of their waste.
Another champion, Caroline Abwao, attended a similar training in the past, but could not sustain championing of proper waste management. The approach was wrong, she says. "The SymbioCity Approach is better as we, champions, are members of the community," she says.
Wearing reflector jackets donated by the Member of Kisumu County Assembly (for Ahero), Kennedy Ooko, the waste management champions pose with officials from Kisumu County and SymbioCity Kenya
The champions will jointly lead waste management in Ahero. They will train and demonstrate to the community waste separation, composting and reuse. They will show residents how to clean and dispose of market waste, every Wednesday, after Tuesday market days. "The biggest challenge we face is ignorance. No one wants to be associated with waste. Many people undermine those who collect waste," another champion, Michael Ogolla, 30, shares.
For two years, Michael has generated compost fertilizer for his crops. But now he wants to increase the amount of manure to sell. He plans to train and work with fellow youth to collect agricultural waste from Ahero Market and from neighbours' homes.
Training of the 25 waste management champions is a step towards better collection and management of solid waste in Ahero. According to the assistant pilot coordinator for SymbioCity Kenya in Ahero, Sospeter Onunga, the new waste management system aims at reducing the volumes of waste to the landfill.