Kitui County's Pilot Project Shifts its Focus
As the seven SymbioCity Kenya (SCK) Pilot Counties entered the stage of drawing proposals for their respective change projects, Kitui County found itself in a somewhat awkward place. The project they had planned for one and a half years was about to be implemented through a different department within the county. Informed by their already conducted Urban Sustainability Review, the SCK Kitui team shifted focus from water to market upgrade.
A change project in SymbioCity lingo is a sustainable economic, social or environmental urban development intervention identified and prioritised by all stakeholders, and aimed at reducing poverty in the pilot town. Kitui County was to supply water to residents of Kwa Vonza. Due to the urgent needs however, tenders towards implementing the water project are already being processed. The project involves tapping and distributing water to Kwa Vonza residents from Muthasiano River, whose waters, unlike those of most rivers in Kitui County, do not dry up. The river's water source is beneath the ground hence the extraction would not affect rivers downstream.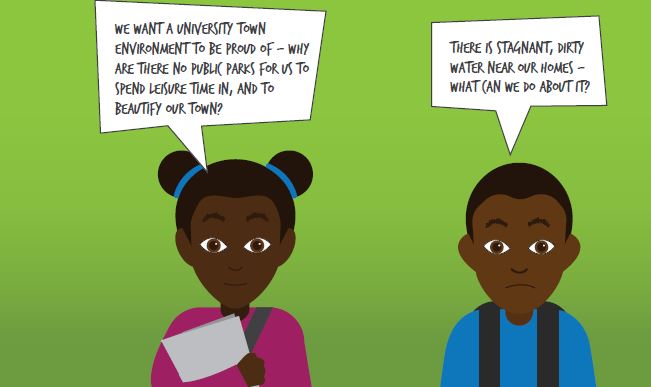 A participatory Urban Sustainability Review helped identify the different needs, assets, and priorities of Kwa Vonza town. You can find all reports here.
"Kitui has a vibrant governor, to who, every planned project must be implemented," states Planner Sammy Kathike, the Pilot Coordinator of SCK in Kitui County. According to Sammy, whether the project was implemented by SymbioCity or not, the outcome is the same. "I am proud that the idea came from the Symbio process."
Upgrading the market to resolve multiple issues at the same time
Empowered through the SymbioCity processes, and leaning on an Urban Sustainability Review, the Kitui County team quickly generated a new idea. They plan to upgrade and integrate Kwa Vonza Market into a vibrant and useable space. The market is currently underutilised – once weekly on market day, yet it has the potential to daily cater for multiple functions.
The new plan includes introducing low cost stalls, and enhancing walkability and accessibility of the spaces on foot by paving the road leading to the market and lining it with trees. Elaborate waste management and water catchment plans are also included in the new plan. "We went back to the drawing board but we shall generate very tight plans. I know that," confirms Sammy.
All SymbioCity Kenya Change Projects Now Defined
As of June 2018 all seven Pilot Counties have finished designing Change Project proposals and entered the challenging phase of implementation. Earlier this month the teams set up their project monitoring systems and begun inception planning, including listing the many terms of reference a concrete urban improvement will entail.